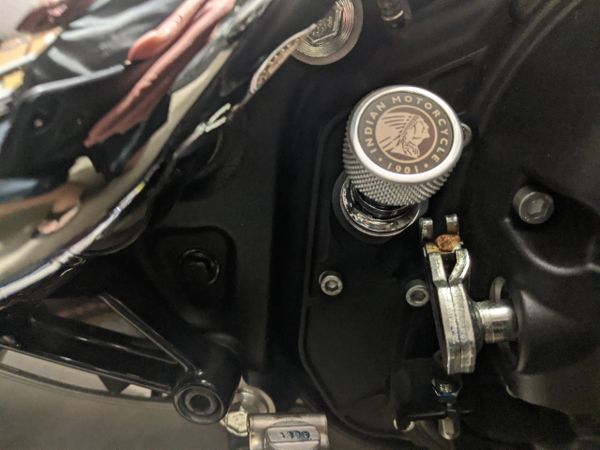 Indian MC Oil Dipstick
Precision made on a CNC lathe from billet aluminum and stainless steel rod. Easy to read and no special tools required. Designed for the Thunder Stroke 111 engine.
IMPORTANT. THE EMBLEM IS LOOSE SO THAT ONCE THE DIPSTICK IS INSERTED AND TIGHTENED, IT CAN BE ATTACHED SO THAT IT ALIGNS AND FACES THE CORRECT WAY  
PLEASE READ - CAUTION - THIS IS AN ALL METAL DIPSTICK - CHECKING YOUR OIL AFTER THE ENGINE HAD BEEN IN OPERATION FOR A LONG PERIOD OF TIME COULD BURN YOUR HANDS
·       Victory Things LLC is not responsible for misuse of this product. Victory Things LLC is not liable for injury OR loss associated with the use of this product. By purchasing this product, you agree to these terms. 
Reviews